Stayed in the old nursing home in Reefton.  Lovely old building in great condition set on beautifully kept grounds.  Whether looks OK for big river ride.  Reefton is at 2050 kms.  So he is 2/3rds of the way!!!!  110 kms from Reefton to Greymouth today.  And they go through Blackball which is where the Labour Party was formed apparently.
Mikes shot of sunrise on Big River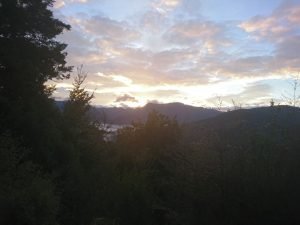 Waiuta Track – Big River
Geoff said the scenery was stunning and  beautiful.  Lots of climbing and the track was more of a tramping track.  Pushing the bike over rocks etc.
Here are some of his shots of the day
Start of big river track just after dawn, Big river hut, Somewhere near start of Waiuta track, Waiuta track- a bit of walking to do, End of Waiuta, Food left for TA riders at start of 4wd track to Big River.
He's now in Graymouth for the night, staying on a lovely old hotel.  Complementary soup and dinner is the roast of the day.