Started with a huge binder for breakfast at the Rhubarb cafe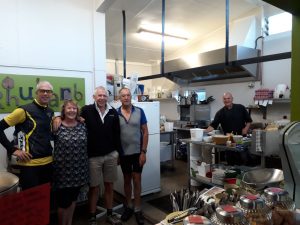 Then onto what they said was the hardest 57 ks they have ever ridden.
Here a comment from Mike
The trail was just brutal.  Hardest 40kns I've ever done but some fantastic views.
Now some shots from Jeremy
Jeremy, Miles and Geoff are in Mangakino and going to have a rest day there.  Looks like great accommodation on the lake front.  Paul and Jim are in Arapuni and will ride to Mangakino tomorrow.