Geoff bid farewell to Paul and Miles today.  He decided to do about 40ks and Paul and Miles were keen to do well over 100ks.  He's made it to Tapawera and has had time to cook lunch and dinner in his wee motel room and catch up with lots of things.  Some rain leaving Richmond but then it cleared.
Mike has met Paul Kennet (one of the Kennet brothers who has designed and created the Tour.
Paul Kennett at top of maungatapu saddle oops meant to say peak!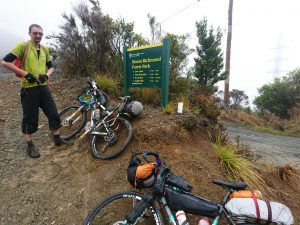 And Jeremy has made it to Nelson today.  Here are his shots –
Refuge at pelorus from the torrential rain today.  Knocked the bastard off, freezing cold, glad I took malcs advice for a warm riding jacket.   And hello sunny Nelson.