Here is a message from Miles:
Team – after being fed and watered like kings at Paul's sister's place we are born again and rearing for a 6am departure tomorrow.
Don't know where we will all end up but Malc is so right – you just get in the zone and your bubble and rhythm – and pedal on.
Apart from last night, it's been an amazing adventure.
We have met some of the best people.
Thanks every one for your support.
Miles.
Here is a shot up Mt Eden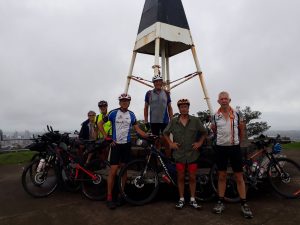 And heres a comment from Jeremy
Hi everyone many thanks for the continued support , had a great day today after an early start from kingsland. Yes well spotted Malcolm, the track was locked off due to storm damage so the road it was. Everyone rode well today and nice to have no rain.
They pedalled from Mt Eden to Thames today – about 156 kms so they are nearly back to where they wanted to be.  Tomorrow they aim to get to Arapuni.